Kankurur G-Carrier (TL15) Revisited
This article originally appeared in the September/October 2017 issue.
Mongoose's publication of Adventure 4: Into the Unknown included a version of the Kankurur G-carrier which first appeared way back in 1987 in Grand Census, and again in 1989 in World Builder's Handbook, as an ideal survey vehicle for scouts who want to get out and about. In Into the Unknown, this g-carrier is presented with Supplement 5-6: The Vehicle Handbook stats. However, the adventure was written before that volume was published and so was initially designed with Supplement 5: Civilian Vehicle stats. Those numbers are given here for those who still use that system, along with the author's original deck plan (which was replaced by a Mongoose artist's much more illustrative version in the published book).
'Kankurur' are large birds of prey native to Vland. They have a homing instinct and can carry up 20kg in their talons – making messages and small cargoes possible.
Summary
Manufacturer:
Ling Standard Products
Designed:
1095
Manufactured:
1097
Purpose:
IISS & Imperial Navy planetary survey, exploration and reconnaissance
Variants:
(SA) Standard atmosphere – full life support up to atmosphere type B
(HE) Hostile environment – full life support in insidious atmospheres or areas of high radiation
Fuel:
22,000 litres
Endurance:
87 days of operation (SA); 83 days (HE)
Top speed:
153mph/246kph (SA); 149mph/239kph (HE)
Cruising speed:
115mph/185kph (SA); 111mph/180kph (HE)
Cargo:
20m3 (airlock); 7m3 (cabin)
Features:
Airlock (opens to rear and roof), TL13 Fusion still, Meson Communicator – 50,000km range, two Radios – 5000km range, galley, four berths, fresher, cruise control, six TL15 rescue balls.
Optionally: TL13 Holo Projector (Cr10,000), Fore and aft roof-mounted TL9 Motion Sensors (Cr2000)
Loaded weight:
58 tons (SA); 62 tons (HE)
Cost:
MCr17.483 (SA); MCr21.838 (HE)
Dimensions:
15m x 4.5m x 3.75m.
Mongoose Traveller Tasks
To fly or pilot a g-carrier is a Flyer (Grav) or Pilot (Small Craft) task check:
To fly a g-carrier: Dexterity, 1-6 hours, Routine (+2)
Repairing a Kankurur in which the Hull has been damaged is a Mechanic check (as per Core Rulebook, p.68):
To repair a damaged g-carrier: Intelligence or Education, 1-6 hours, Average (+0)
For less serious damage it could be a Mechanic or Engineering (Electronics) check depending on what the problem is:
To repair a g-carrier with minor damage: Intelligence or Education, 10-60 minutes, Average (+0)
Jury-rigged repairs will stop functioning after 1-6 hours. Field repairs require a source of spare parts (scrapyard, a workshop, systems on another vehicle, or can be taken from other systems on the same vehicle (p.60 Core Rulebook)).

For field repair, the task time frame may be increased by one or two increments.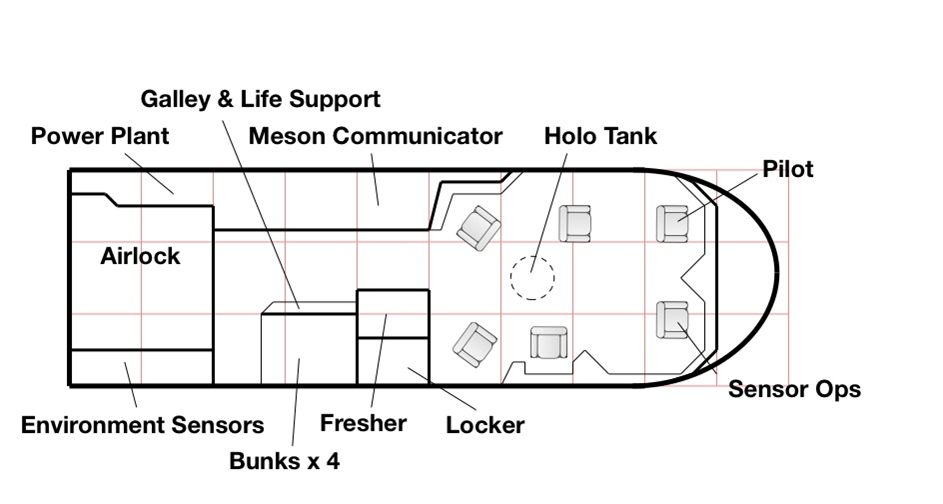 Kankurur G-Carrier (TL15)

Standard Atmosphere

System
Description
Vol (m3)
Mass (kg)
Cost (Cr.)
Hull
264m3 (base 220) Box configuration, Bonded Superdense, Streamlined, Sealed
Hull: 60 Structure: 61
-
17,600
85,800
Drive system
Grav
11
1650
5,000,000
Power Plant
Nuclear Fusion-15
Power output: 294
Fuel Consumption: 10.5/hour
10.5
1155
183,750
Fuel
22,000 litres (2095 hours operation)
22
22,000
-
Armour
Bonded Superdense 6
-
-
-
Sensors
Advanced Long Range Compact (50km +3 DM)
4.5
2.5
20,000
Communications
2 x Radio-5000 (range 5000km)
Meson-50,000
2
20
15
4000
5000
10,000,000
Environmental
Life Support, Advanced
Airlock
6.6
6
2310
300
1,650,000
25,000
Crew
1 (driver)
-
-
-
Operating stations
1
1.25
125
-
Passengers
5
5
500
-
Sleeping Areas
1 simple (4 occupants)
6
120
1500
Utility Areas
Galley, Fresher, Holo Tank
5
375
6250
Cargo
2 dTons
27
2700
-
Agility
+0 DM
-
-
-
Speed
Cruise: 185kph, Top: 246kph
-
-
-
TOTAL
134
52,485
17,489,300
Kankurur G-Carrier (TL15)

Hostile Atmosphere

System
Description
Vol (m3)
Mass (kg)
Cost (Cr.)
Hull
264m3 (base 220) Box configuration, Bonded Superdense, Streamlined, Advanced Sealed
Hull: 60 Structure: 61
-
19,360
171,600
Drive system
Grav
11
1650
5,000,000
Power Plant
Nuclear Fusion-15
Power output: 308
Fuel Consumption: 11/hour
11
1210
192,500
Fuel
22,000 litres (2000 hours operation)
22
22,000
-
Armour
Bonded Superdense 6
-
-
-
Sensors
Advanced Long Range Compact (50km +3 DM)
4.5
2.5
20,000
Communications
2 x Radio-5000 (range 5000km)
Meson-50,000
2
20
15
4000
5000
10,000,000
Environmental
Life Support, Hostile Environment
Airlock, Decontamination
11|12
4000
500
5,550,000
75,000
Crew
1 (driver)
-
-
-
Operating stations
1
1.25
125
-
Passengers
5
5
500
-
Sleeping Areas
1 simple (4 occupants)
6
120
1500
Utility Areas
Galley, Fresher, Holo Tank
5
375
6250
Cargo
2 dTons
27
2700
-
Agility
+0 DM
-
-
-
Speed
Cruise: 180kph, Top: 396kph
-
-
-
TOTAL
145
56,590
21,838,850