Adventure of a Traveller Greenhorn
This article originally appeared as one of the featured articles in the May/June 2016 issue.
Two librarians, an institutional repository and a bibliography over lunch. No, not the start of a bad joke, but my introduction to the Traveller Universe.
Timothy needed his fabulous bibliography of the Traveller publications entered into the University of Portsmouth's Institutional Repository, a place to collect and distribute the University staff's research, and being a nosy parker I asked to read it and also had to look at some of the publications whose details are so carefully recorded.
Timothy has always been a Traveller enthusiast and encouraging his work colleagues to engage with the fun and frolics to be had with a couple of dice and good imagination. He drew me into a world of character creation and the adventures that can be had over lunchtime and beyond. Several characters creations later, Fred Squeaker being the most successful and likeable character I created. I wanted to play an adventure.
Other colleagues, De. Da. E. became interested and an evening in the pub was set up with Timothy in charge. Two other folk from outside the Library also joined in, C., one of our lecturers and Te., a friend of Timothy's and moral support. The adventure chosen was Aramis: the Traveller Adventure. Characters were given out and absorbed and the adventure began. Timothy's acting of a Bwap had us all in stitches, flapping hands and lisping speech, worthy of a BAFTA. Four hours later and a good time was had by all, so good in fact a second evening was arranged to continue the adventure.
I took the plunge and signed up to go to TRAVCON16, much to my husband's amusement.
The day arrived and I set off with a little trepidation to spend a weekend with a group of strangers. I needn't have worried, I was welcomed with an opening game of Firefly to say hello and some mild mickey taking that I worked with T.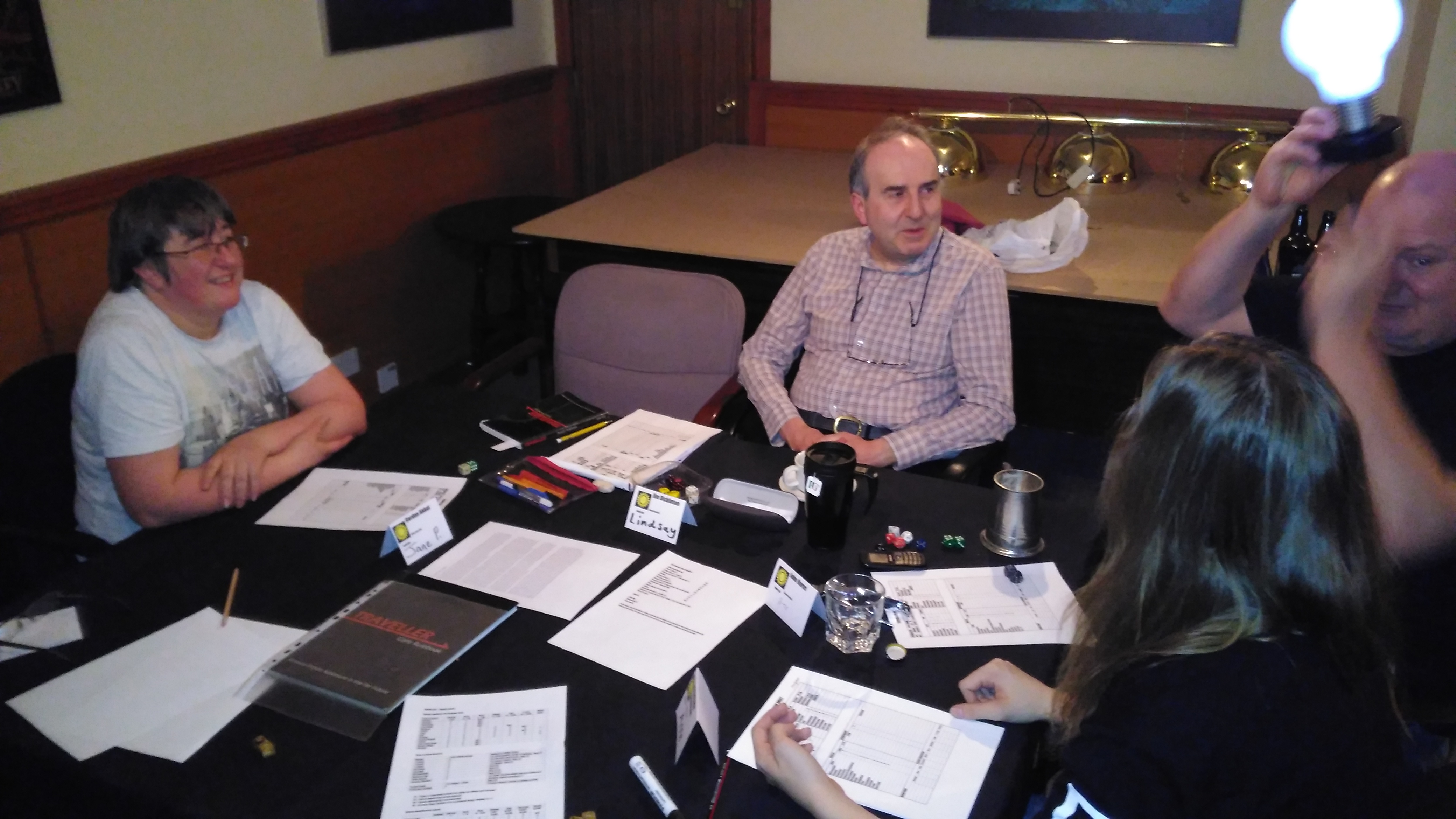 Jane and Linsday, Fixing X
After a very pleasant Indian meal at the next door restaurant, TRAVCON settled down to the first scrum of the weekend to sign up for the adventures on offer. Timothy's Ashfall 2 was filled in under thirty seconds (he was very surprised and highly delighted). It was all done in the best possible haste. I signed up to Fix(ing) X. A distress call from a red zone, a moral dilemma (do we go with the rulebook or obey the instinct to offer help), rival researchers and indigenous creatures, all ending with us being declared heroes.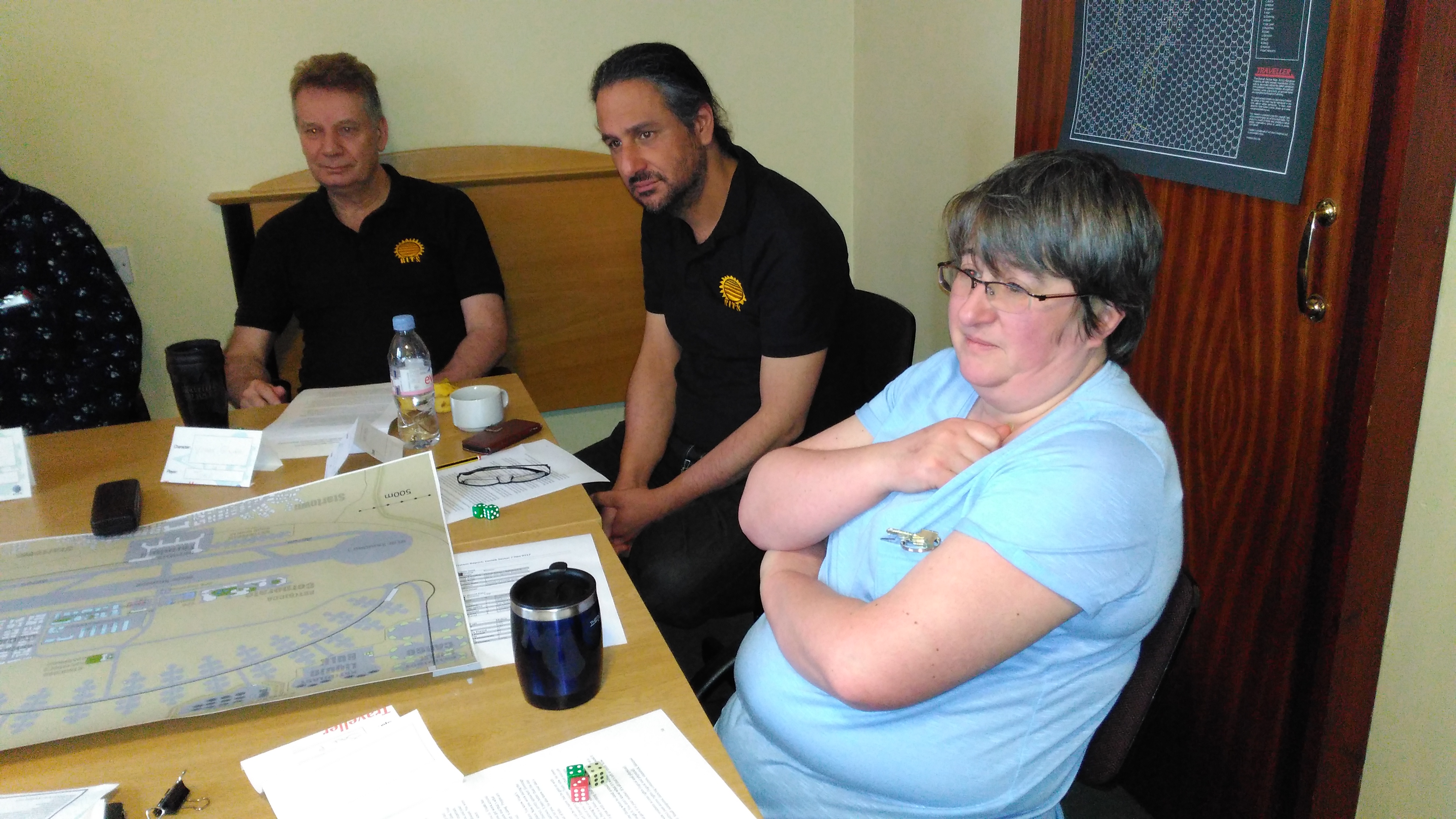 Tony, Jeff, and Jane playing in Cold Store.
A good night's sleep and breakfast saw everyone ready for round two. Again the signup sheets were eagerly awaited and the dash ensued. This morning's adventure was Cold Store and saw me as a twenty six year old clerk/bar dancer getting involved with gangsters, dodgy cargo, a mystery illness, the death of a friend and suspect heritage along with my family. I ended up facing the bad guy dressed in a towel with a pistol hidden only I knew where.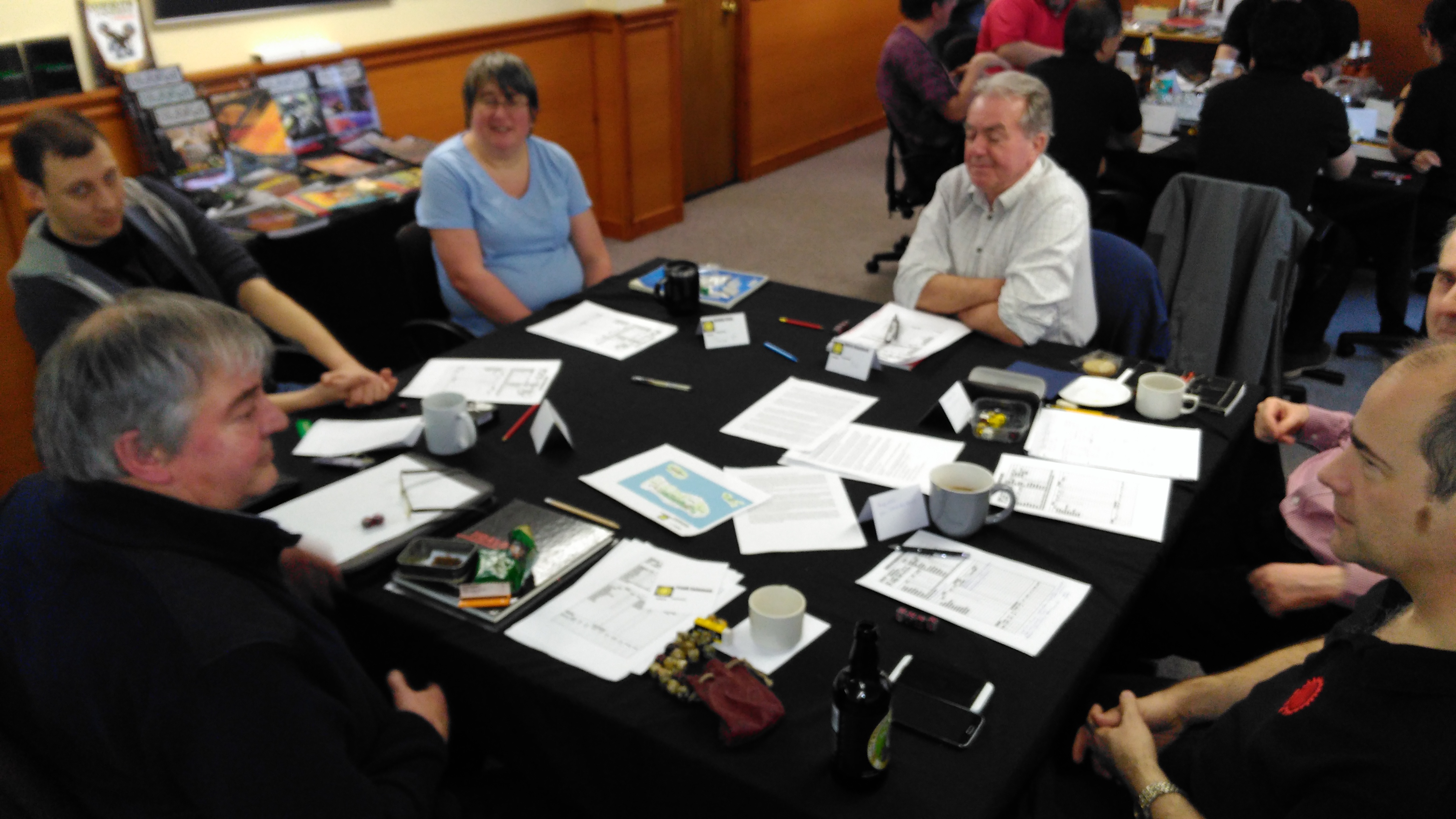 Clockwise from lower left: Steve, Edd, Jane, Bob,
Lindsay, and Andy playing The Show Must Go On
Lunch was capably sourced by S. after the usual place had closed down.
And the afternoon's adventures were waiting to be signed up for.
This time all the fun of a variety show was on offer in The Show Must Go On. A world whose paperwork had been lost wanting to host a magnificent show from off world. Throw in suspected sabotage of the new transport system and mining industry, a missing brother, and of course two stars wanting top billing, fun was had by all. To top it the highlight of the show was a chimpanzee called Jimmy, dressed as the Duke of the world, throwing knives at Henri ('Enry to everyone else but himself) on a spinning wheel. We brought the House down.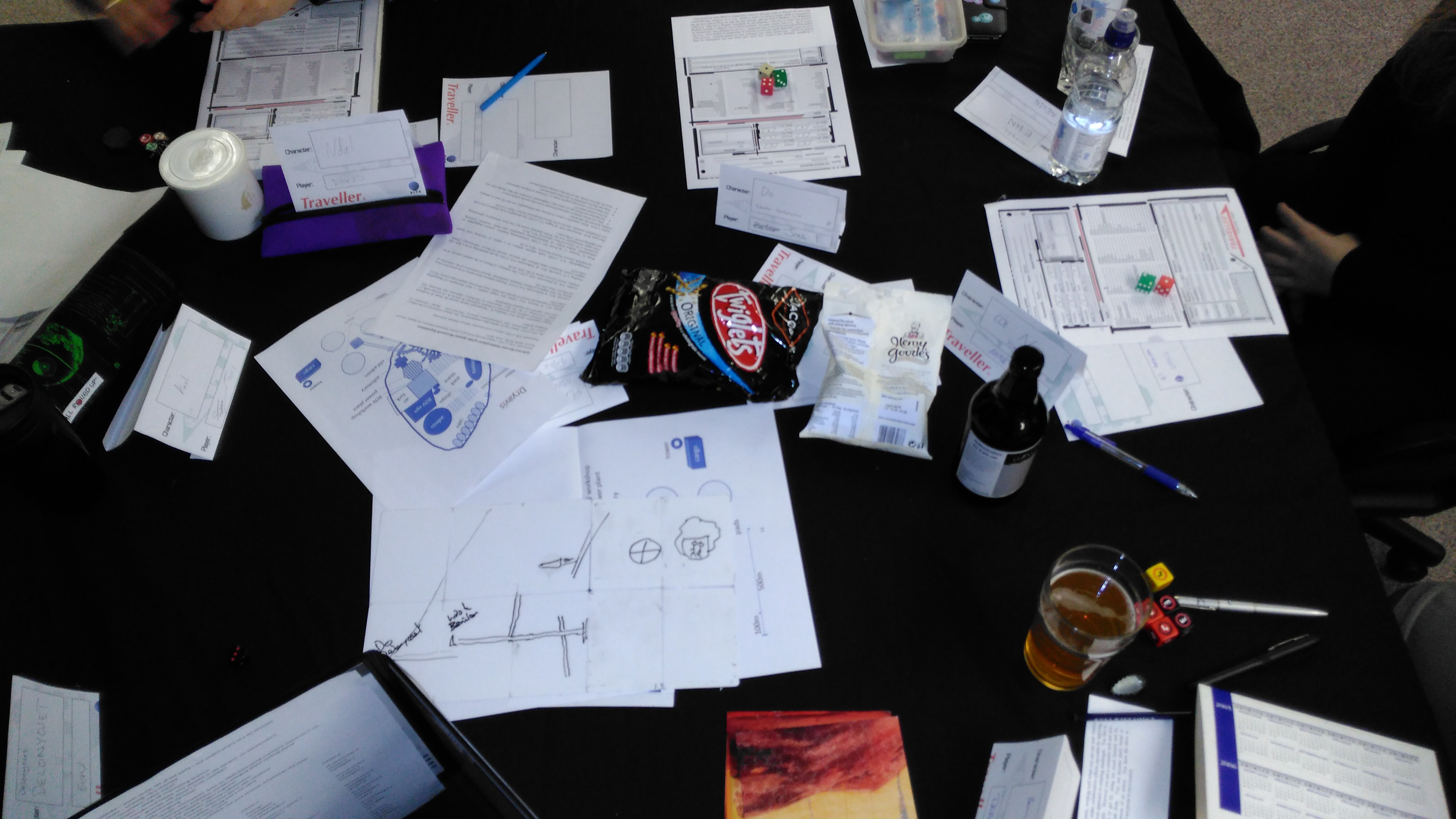 The tabletop for Ashfall 3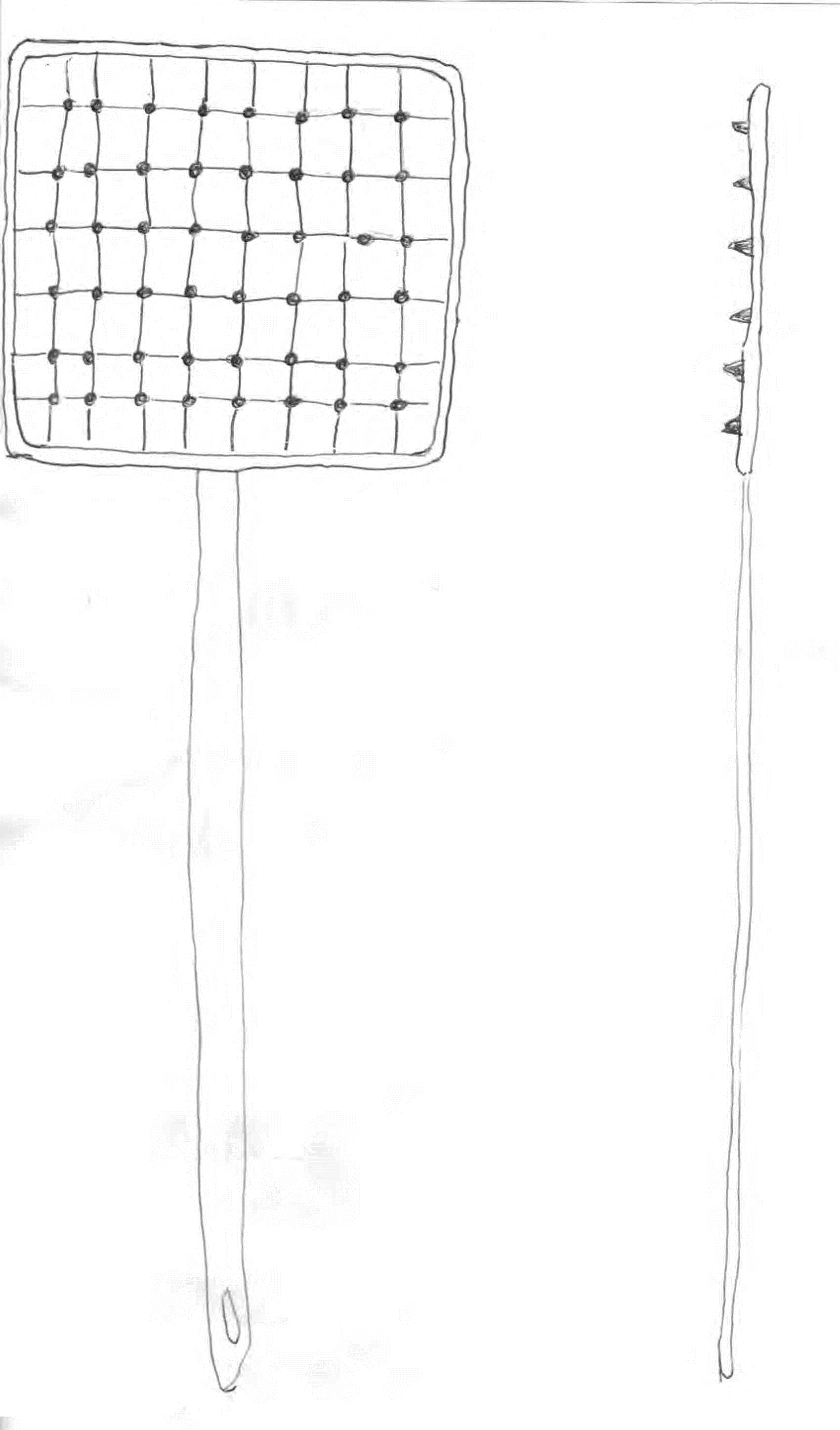 Chirper Swat
Dinner was a fantastic Chinese takeaway, again ably sourced by volunteers on the food run. The now familiar sprint to the signup sheets, and Ashfall 3 was mine. This adventure was out of the norm for Timothy to be running as he only volunteered it as a substitute and it was still being developed to its full potential. One and a half pages of notes for guidance instead of the one hundred plus he normally has. However undeterred we took on Spume, decided magma worms taste like liquorice cuttings, found a spaceship docked to a large complex, took over the local social media channels with an amazing upside down abseiling academic (thank you D. the image still makes me laugh) and started terraforming Spume. The magma worms' days are numbered but liquorice cuttings just taste so good. Spume had some new neighbours move in on the table next door, Chirpers in the adventure A New Friend. One of the technicians from Ashfall 3 came up with a Chirper Swatter as they were on the nice but screechy side.
Another good night's sleep and another decision to be reached as the pen marks the signup sheets. This time Vic Berry's Scrapyard and the chance to salvage an abandoned mining operation. Rats chewing body armour, genetically mutated big green men and to bomb or not to bomb dilemmas abound on the way to making a profit. We did not bomb the green men and discovered that the planet genetically alters off world visitors to suit itself. So we rescued the green men got treated for the mutations and profit was made. Off to the next contract.
Overall I had a fantastic weekend with a group of fantastic people. D. and P. in particular went out of their way to welcome me, particularly with very good real ale. With Andy and his family organising such a great weekend, I have already signed up for next year and am encouraging other colleagues to come along.
Back in the real world and on to planetary creation, started great but had to slow down as real life has got in the way.
Encouraged by my enthusiasm Timothy agreed to run an improvised game over a lunchtime using characters that are already up and running. Game one started with me and D. playing Fred Squeaker, an infantry man, and Gvoudzon, a Vargr who got left behind teaming up and becoming bodyguards for a business woman. After successfully looking tough and being paid double what was agreed, Fred's CO has requested that he travel to collect a case from the army base across the country. Gvoudzon agrees to come along for his usual fee and expenses and the second adventure starts there.
Buying Traveller publications, from most versions of the game, is becoming a habit after reading all the reviews and of course Timothy's recommendations and introduction to websites where they are sold. Luckily most are available as pdfs or space would soon become an issue.
Where to go from here?
Keep playing
Get those planets created, mapped and populated
Create my own adventure (space station and fiery tentacle monster)
Persuade my colleagues to play said adventure
If all goes well may be offer to referee a game at TRAVCON????
P.S. Chirper swats, based on the lightweight flyswatter, are available to order. The Chirper version adds small but sharp points to emphasize the swat to the victim. Availabile in a wide range of colors Points come in three sizes. Cr2 each. No responsibility will be taken if use of the swatters contravenes any local/national sophont welfare laws.