Island Commuter Catamaran (TL8)
This article originally appeared in the October 2011 issue of the downloadable PDF magazine.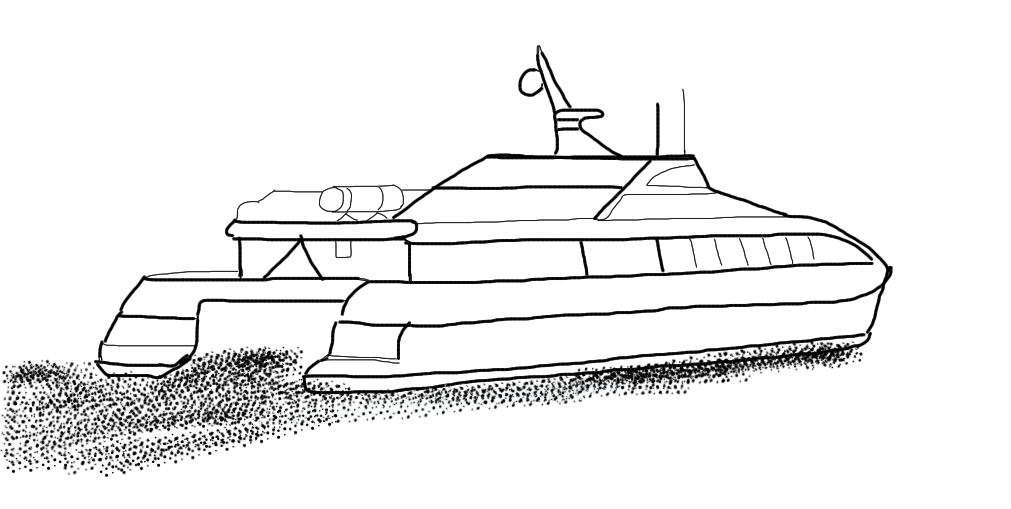 Over certain stretches of well travelled water, a fast catamaran may be the solution to commuter transport. Perhaps because of distance, or because certain travellers are willing to pay a premium for faster access to their destination than a traditional passenger ferry might allow. The Island Commuter Catamaran is a no frills passenger vehicle that can carry nearly 200 passengers. Cruising at 35 knots, it has a range of 525 nautical miles and is as at home operating between mainland and island, inter-island or across wide river estuaries. The main deck is the passenger lounge with coach seating and some luggage area. Above is the bridge and below the engine room. There is no external deck space except for minimal access required by the crew at mooring stations and on the bridge wings. Speed across the water does come at a certain cost, the catamaran is not quiet and can be heard at some distance – even three miles away its engines make a distinctive sound. At a distance of 93m the wash created amounts to some 38cm. From its cruising speed the catamaran can stop in 20 seconds and around 111m.
There are three crew, a helmsman who also commands the vessel, a deckhand to assist with mooring stations or act as a relief helmsman, and a cabin attendant who may also double as a second deckhand. Facilities are limited to non-existent. Some examples of this vessel on routes of only half an hour or so, don't even provide passenger toilets.
Typical navigational equipment includes radar, compass, echo sounder, GPS etc and the ship-to-ship/ship-to-shore radio with a range of up to 50km depending on world size, atmosphere and other conditions. Law level will usually dictate what safety equipment is carried, but typically there will be liferafts, lifejackets and other safety equipment as required.
Island Commuter Catamaran (TL8)
Volume (m3)
Mass (kg)
Cost (Cr.)
Hull
700m3 (base 700 m3) Streamlined configuration, Light alloys, Waterproof
-
56,000
273,000
Hull: 193 Structure: 193
-
-
-
Drive system
Water-Driven
70.000
10,500
350,000
Power Plant
Internal Combustion-8
Power output:5373
Fuel Consumption: 199/hour
199.000
13,930
298,500
Fuel
2985 litres (15 hours operation)
2.985
2985
-
Armour
Light alloys 2
-
-
-
Sensors
Comprehensive (3km, +2 DM)
1.000
2
1000
Communications
Radio-50 (range 50km)
0.250
1
750
Equipment
Controls, improved (Agility +1=-1)
0
0
175,000
Crew
3 (1 helmsman, 1 mate, 1 steward)
-
-
-
Operating stations
1
1.250
125
-
Passengers
187
187.000
18,700
-
Cargo
17.67 dTons
238.515
23,852
-
Agility
-1 DM
-
-
-
Speed
Cruise: 65 kph Top: 86 kph
-
-
-
TOTAL
700.000
126,095
1,098,250